Art4Equality is an initiative launched in 2019 supporting equality themed art exhibitions and special projects including films and public art by female identifying artists and allies.
The mission of Art4Equality is to create empowering artwork and exhibitions that can impact social change, raise awareness and inspire our community. Art4Equality additionally facilitates opportunities by providing mentorship to artists, as well as special programing such as panel discussions, performances, and educational art events.
Art4Equality empowers by creating a platform for progress. By supporting the work of underrepresented and marginalized artists, Art4Equality demonstrates the value, quality, and diversity of their contributions to the community, encourages an inclusive dialogue, and promotes equality for all.
Art4Equality is a sponsored initiative of Fractured Atlas, a non-profit 501(c)(3) arts service organization.
Make a tax deductible donation today!
As an initiative dedicated to equality, Art4Equality stands in solidarity with the brave activists, community leaders, and brothers and sisters of all races who have taken to the streets to protest peacefully against racism, injustice, and police brutality. We believe in fighting against systematic oppression. We understand that activism takes many forms and we encourage you to participate in any way you can.
We are committed to supporting diversity in the arts and hope to be able to provide more opportunities for artists as we continue to expand our programming. 
OPEN CALL: Art4Equality x Life, Liberty & The Pursuit of Happiness
Have your artwork on a billboard in NYC! Presented by SaveArtSpace in partnership with Art4Equality and The Untitled Space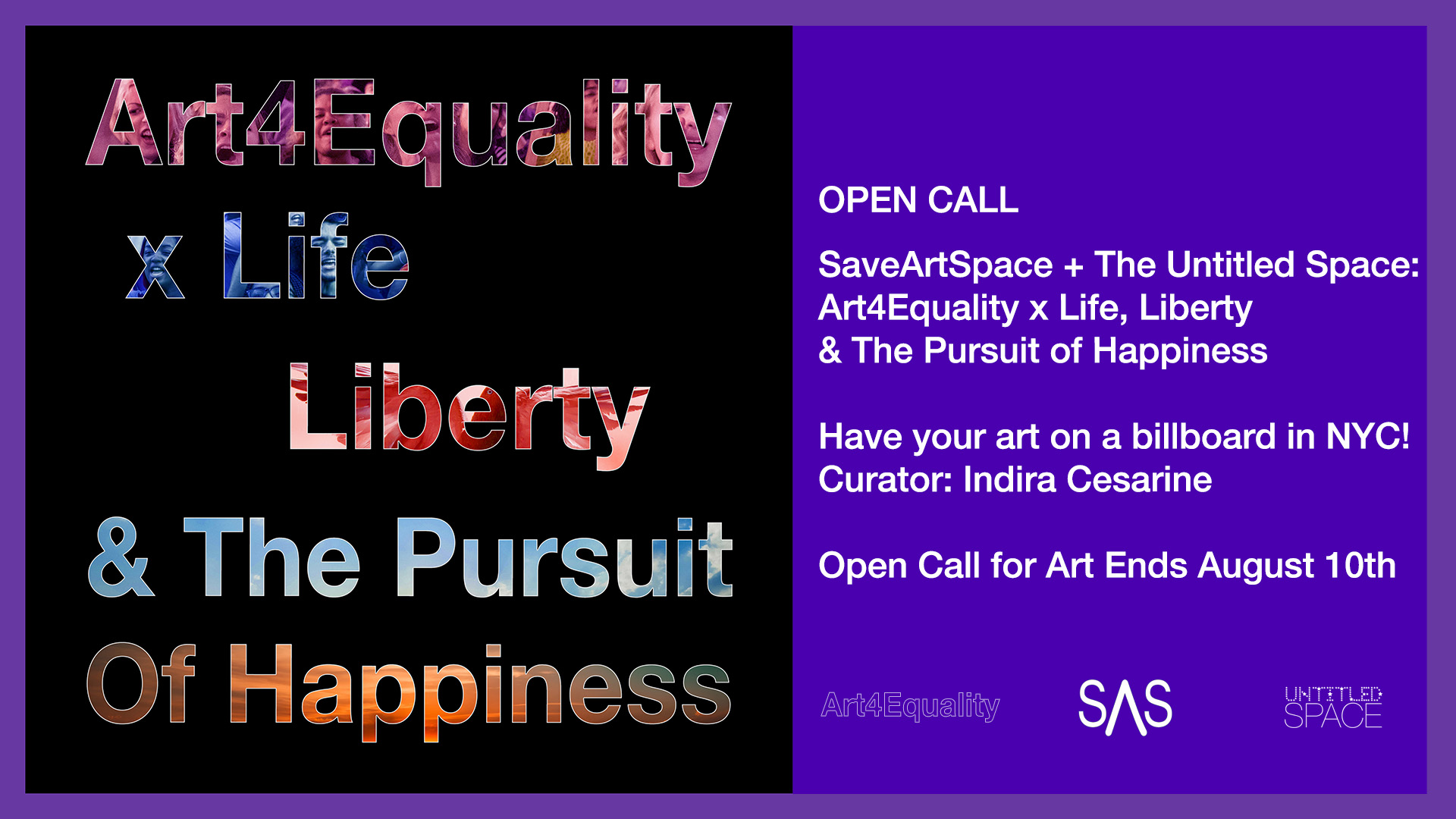 Art4Equality x Life, Liberty & The Pursuit of Happiness
ARTIST OPEN CALL
Presented by Art4Equality, SaveArtSpace & The Untitled Space
Have your artwork on a billboard in NYC this fall!
Public Art Series + Exhibition Curated by Indira Cesarine
Deadline to Submit: August 10th
saveartspace.org/art4equality
Art4Equality is pleased to announce a partnership with the non-profit SaveArtSpace and The Untitled Space gallery for an empowering public art series of billboards in New York City launching this September 2020, along with an exhibition of the artwork created for the series to be presented at The Untitled Space gallery this fall. Revolving around the theme of "Art4Equality x Life, Liberty & The Pursuit of Happiness" the public art series and exhibition is now open for artist submissions via an open call to be curated by Indira Cesarine, founder of The Untitled Space and Art4Equality.
"What do these words mean to you: "Equality," "Life," "Liberty," "The Pursuit of Happiness"?
"We live in an unprecedented time, our liberties robbed by a global pandemic, which laid painfully bare the inequities that have plagued the most vulnerable in our society for far too long. Political polarization in the United States is reaching critical mass with a divisive political system at war. Realities of social inequality and racial injustice are challenging our ability to have confidence in a promising future. With the 2020 elections approaching, we feel it is a crucial time to create an opportunity for artists to respond to our current situation, with the artwork presented in a public platform, where it can reach an audience of millions of people every day and promote an inclusive dialogue. The public art series "Art4Equality x Life, Liberty, & The Pursuit of Happiness" seeks to empower, enlighten, and shed a ray of hope on a city that has been under a dark cloud, in a country that is in tatters not only by an invisible virus, but also by political and civil unrest. The billboard transformed into an art display is an innovative, and ultimately accessible way to present contemporary art, transforming spaces normally dedicated to advertising into public art that has power and impact." – curator Indira Cesarine
Artists are asked to be creative, with artwork inspired by 1 or more of the words or phrases of the theme. Each billboard will feature your artwork along with your name and the title of the artwork. The gallery exhibition will compliment the public art series with a presentation of unique and limited edition prints of the artwork. This open call is open to all artists, regardless of gender, age, ethnicity, or practice. All mediums are welcome.
Artists are invited to submit their work for the opportunity via SaveArtSpace's open call platform: saveartspace.com/art4equality
ABOUT SAVEARTSPACE:
http://www.saveartspace.org/
Founded in 2015, in Brooklyn, NY, SaveArtSpace is a non-profit organization that works to create an urban gallery experience, launching exhibitions that address intersectional themes and foster a progressive message of social change. By placing culture over commercialism, SaveArtSpace aims to empower artists from all walks of life and inspire a new generation of young creatives and activists. Since 2015, SaveArtSpace has installed the artwork of 180 artists on 212 advertising spaces in 10+ major US cities, coast-to-coast. Beyond transforming advertisement space into public art, we work with a variety of community groups including: schools, senior residencies, shelters, youth groups, special needs programs, art collectives, galleries, and museums. Together, we aim to foster community and cultural enrichment through the arts. While supporting underprivileged and emerging artists by providing them the opportunity to display work in the public space.
ABOUT THE UNTITLED SPACE:
http://untitled-space.com/
The Untitled Space is an art gallery located in Tribeca, New York in a landmark building on Lispenard Street. Founded in 2015, the gallery features exhibits of emerging and established contemporary artists exploring conceptual framework and boundary pushing ideology through mediums of painting, sculpture, printmaking, photography, video and performance art. The gallery is committing to exploring new ideas vis-à-vis traditional and new mediums and highlights a program of women in art. Notable exhibitions include "UPRISE/ANGRY WOMEN" (2017), "SHE INSPIRES" (2017),"ONE YEAR OF RESISTANCE" (2018), "IRL: Investigating Reality" (2019), and "BODY BEAUTIFUL" (2019) among many other critically acclaimed exhibitions. The Untitled Space artists and exhibitions have been featured in countless international publications, including American Vogue, Vogue Italia, New York Times, Forbes, Newsweek, W Magazine, Harper's Bazaar, CNN, New York Magazine, Dazed and Confused, i-D Magazine, and The Huffington Post among many others.
Get The Facts: Gender Inequity in The Arts
Art4Equality's mission is to create inspiring exhibitions and public art that can make a difference and promote equality for all. The facts are clear – even in 2019, women are dramatically underrepresented in museums, galleries, auction houses, and public art. Learn about gender inequity in the arts with some eye-opening facts and join us in supporting Art4Equality.
2,500,000
Total Number Of Professional Artists in The US as Measured by the Bureau of Labor Statistics. (www.arts.gov)
50
MFA graduates are women (Artnet News). More than 46% of total visual artists are female according to 2019 Report by National Endowment of The Arts.
74
Women on average earn 74¢ for every dollar made by male artists according to National Endowment of The Arts
11
Art by female arists acquired by top museums in the US for their permanent collections in the last decade. 29,247 works by female artists were acquired by 26 top museums in the United States, out of 260,470 total works. (NY Times)
13
Representation of female artists in museums and galleries. Out of over 10,000 artists in the permanent collections of 18 prominent art museums in the U.S., 87% are male (Public Library of Science) 13.7% of living female artists are represented by galleries in Europe and North America. (Artnet News)
27
Solo exhibitions in the US at major institutions devoted to women artists out of 590 major exhibitions by nearly 70 institutions reviewed. In another study of 820,000 exhibitions across the public and commercial (gallery) sectors in 2018, only one third are by female artists. (The Art Newspaper)
2
Artworks by women sold at auction between 2008 – 2019. More than $196.6 billion has been spent on art at auction during this time frame, of this work made by women accounts for just $4 billion. (Artnet News)
5
5 of the 150 statues in the New York City outdoor public spaces honor women. City Hall has recently confirmed (in March 2019) an additional 4 to be installed bring total to 6% female. (New York Times)
2
2 works by women have ever broken into the top 100 auction sales for paintings, despite women being the subject matter for approximately half of the top 25. (Artsy, Art Market 2019 Report)
Get The Facts: Racial Diversity in The Arts
Learn about the lack of diversity in the arts with some eye-opening facts and join us in supporting Art4Equality.
8
8.8% of artists represented by New York galleries are black, despite making up 13.4% of the U.S. population. From 2008 – 2018: 7.6% of all exhibitions at 30 prominent American museums have been of work by African American artists. African American artists are 1.2% of the global auction market. (Artnet News, 2017-2018)
13
Black / Asian / Hispanic / Latinx Artists Featured in Top 18 Museum Permanent Collections In The US: 9% Asian, 1.2% Black, 2.8% Hispanic / Latinx – based on sample of 18 museums whose full collections were listed on a publicly accessible website – stats represent the larger U.S. museum landscape (Public Library Of Science, 2019)
1
Latino artists are the most underrepresented, making up only 1.2% of artists represented by New York galleries despite being the largest minority group in the U.S., making up 18% of the nation's population. (Artnet News, 2017)
Recommended Reading
Read official reports and relevant articles on diversity in the arts.
Official Studies:
Artists and Other Cultural Workers A Statistical Portrait by National Endowment of The Arts
– National Endowment of the Arts, April 2019
Diversity of artists in major U.S. museums
– Public Library Of Science, March 2019
LGBTQ ART AND ARTISTS / LGBTQ AMERICA – A Theme Study Of Lesbian, Gay, Bisexual, Transgender, And Queer History
– National Park Foundation, 2016
Articles:
Female Artists Made Little Progress in Museums Since 2008. In the past decade, only 11 percent of all work acquired by the country's top museums was by women.
– New York Times, September 2019
Female Artists Represent Just 2 Percent of the Market.
-Artnet News, September 2019
Artists in 18 Major US Museums Are 85% White and 87% Male
– Hyperallergic, June 2019
Why Is Work by Female Artists Still Valued Less Than Work by Male Artists?
– Artsy, March 2019
Gallery representation dwindles for 'established' female artists, new research finds
-The Art Newspaper, January 2019
African American Artists Are More Visible Than Ever. So Why Are Museums Giving Them Short Shrift?
-Artnet News, September 2018
"Yes, Basquiat Is an Art-Market Superstar. But the Work of Other African American Artists Remains Vastly Undervalued"
-Artnet News, September 2018
It's Official, 80% of the Artists in NYC's Top Galleries Are White. It's no secret that white male artists enjoy outsize representation at New York's top-tier galleries
-Artnet News, June 2017
Art4Equality Is A Platform For Progress
Exhibitions + Public Art
Art4Equality raises funds for equality themed art exhibitions and Public Art projects that impact social change, raise awareness and inspire our community.
Special Projects
Art4Equality presents educational art events and special programing including panel discussions, workshops, and performances.

Mentorship
Art4Equality facilitates opportunities by providing mentorship and guidance to artists in need.
Art4Equality Events
Get the lowdown on upcoming exhibits & events!
Art4Equality
Benefit Group Exhibition Presented by The Untitled Space
EXHIBITION ON VIEW
January 9 – February 1, 2020
RECEPTION with Artists
January 23, 2020
THE UNTITLED SPACE
45 Lispenard Street, NYC 10013
The Untitled Space is pleased to present a benefit group exhibition in support of Art4Equality featuring a revolving show of artworks throughout the month of January 2020 that will raise funds for the initiative presenting equality themed exhibitions and public art.
---
Art4Equality x PADDLE8 Benefit Auction
Preview auction online from January 23, 2020
Bidding Live: January 30 – February 11, 2020
https://paddle8.com/auction/art4equality
Bidding Opens January 30 @ 12pm EST
Bidding Closes February 11 @ 5pm EST
Art4Equality has partnered with The Untitled Space and Paddle8 for an inaugural fundraising auction kicking off with a preview on January 23rd with bidding live from January 30 – February 11, 2020.
The Art4Equality x Paddle8 Benefit Auction features over 200 artworks by more than 60 artists coming together to raise funds for Art4Equality's future programing and equality focused projects.
ARTISTS FEATURED:
Alex Janero, Alexandra Rubinstein, Allie Fuller, Allison Hill-Egdar, Anna Cone, Anna Sampson, Anne Barlinckhoff, Annika Connor, Buket Savci, Cabell Molina, Camilla Marie Dahl, Cara Lien, Cavanagh Foyle, Dafna Steinberg, Danielle Siegelbaum, Dara Vandor, Dolly Faibyshev, Dominique Vitali, Elisa Garcia de la Huerta, Elisa Valenti, Ellen Stagg, Elsa Keefe, Fahren Feingold, Grace Graupe-Pillard, Hiba Schahbaz, Indira Cesarine, Ismael Guerrier, Jessica So Ren Tang, Judy Polstra, Karen Bystedt x Brad Branson, Kat Toronto aka Miss Meatface, Katie Commodore, Katy Itter, Katya Zvereva, Kaya Deckelbaum, Lauren Rinaldi, Leah Schrager, Lindsey Guile, Lisa Levy, Logan White, Lynn Bianchi, Mairi-Luise Tabbakh, Marcelo Daldoce, Meegan Barnes, Michael Liani, Natasha Wright, Nichole Washington, Peter Beard, Rachel Marks, Rebecca Leveille, Reisha Perlmutter, Robin Tewes, Sarah Maple, Sarah Weber, Savannah Spirit, Sebastian Perinotti, Shaina Craft, Shamona Stokes, Shohei Kondo, Tara Lewis, Tina Maria Elena Bak, Trina Merry, and Victoria Selbach.